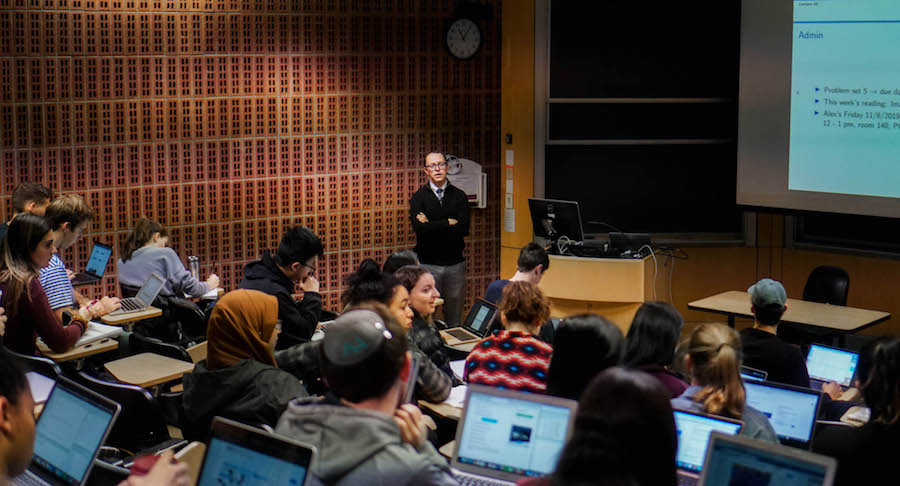 The Penn Program on Opinion Research and Election Studies (PORES) is excited to announce the launch of a new resource for the Penn data analytics community - peer tutors specializing in the R programming language. Peer tutors are available for virtual office hours to support students learning R and utilizing R in their academic courses. The R tutors are available to provide constructive feedback on code and help students troubleshoot problems in R. The tutors are not teaching assistants for any specific course but are meant to be a resource for folks who are using R to complete coursework or projects.
Fall 2023 Courses Supported by R Tutors
PSCI 1800 Introduction to Data Science (w/ Prof. Levendusky)
PSCI 1801 Statistical Methods for Political Science (w/ Prof. Trussler)
PSCI 3800 Applied Data Science (w/ Prof. Pettigrew)
PSCI 3802 Survey Research and Design (w/ Prof. Marble)
Tutoring Schedule  - Fall 2023 (begins Monday, September 18)
Fall 2023 tutoring is course-specific; you should only attend the tutoring sessions designated for your course. Tutors will only answer specific questions about debugging code. Other questions should be directed to your TA or professor.
PSCI 1800
Monday 12 - 1:30 p.m.
Tuesday 12 - 1 p.m.
Tuesday 3 - 5 p.m.
Friday 11 - 1 p.m.
PSCI 1801
Monday 3:30 - 5 p.m.
Wednesday 10 - 12 p.m.
PSCI 3800
Wednesday 3:30 - 5 p.m.
Friday 1:30 - 3:30 p.m.
PSCI 3802
Monday 12 - 1:30 p.m.
Tuesday 1 - 3 p.m.
All office hours will be held in the Ronald O. Perelman Center for Political Science and Economics (PCPSE, 36th & Walnut Streets) Suite #406 unless otherwise noted. 
Please contact Katie Steele at stkath@sas.upenn.edu with any questions or concerns.