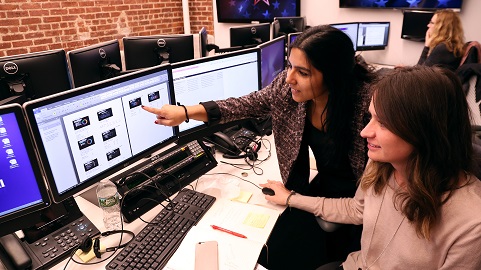 The Penn Program on Opinion Research and Election Studies administers the Survey Research and Data Analytics (SRDA) minor for undergraduates at the University of Pennsylvania. The SRDA minor, first established in 2016, is one of the fastest growing minors on campus. It is intended for students who wish to complement their primary area of study with an interdisciplinary focus on using data and survey methods for conducting research and evaluating programs, policies, and outcomes in the social sciences.
The minor is comprised of six courses - including courses that train students in using R, conducting original survey research, and strengthening their analytic skills. Students are required to take at least one course in each of the core competencies - American Politics, Statistics, and Survey Research - and can supplement the remainder of their minor with electives that align with their particular area of interest.
Click here to explore all of the requirements for the SRDA minor in more detail.
Click here to review the list of courses that are being taught on campus that can be counted toward the SRDA minor.
Students that are interested in pursuing the SRDA minor are highly encouraged to consider enrolling in PSCI 1800: Intro to Data Science (previously PSCI 107). The course, offered each semester, is an introductory class that provides students with a strong foundation in using R for statistical analysis.
Interested in learning more about the SRDA minor? Please send an email to Katie Steele at stkath@sas.upenn.edu to schedule an advising appointment.