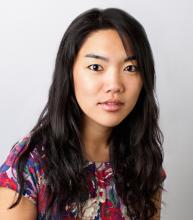 Survey Research Scientist, SurveyMonkey
Sarah Cho is one of the founding members of the Survey Research team at SurveyMonkey, the world's leading online survey platform. In her role as Survey Research Scientist, she is responsible for integrating the best survey practices into all of SurveyMonkey's products and tools. In addition, Sarah conduts regular trainings, blogs and headlines YouTube videos on the survey design process. She also works on partnership projects with NBC, the Pew Research Center, and Westat, researching innovative new techniques for election polling and survey mode effects. 
Previously Sarah was a Senior Survey Analyst at the Henry J. Kaiser Family Foundation (KFF) where she worked on a range of health policy polling projects in the Public Opinion and Survey Research group as well as surveys with media partners such as The Washington Post and NPR. Prior to her tenure at KFF, she was a Data Analyst at Safe Horizon where she conducted a long-term survey project on stalking. She graduated with an AB in Community Health from Brown University and an MPH in Epidemiology from Columbia University.