Tuesday, March 2, 2021 - 3:15pm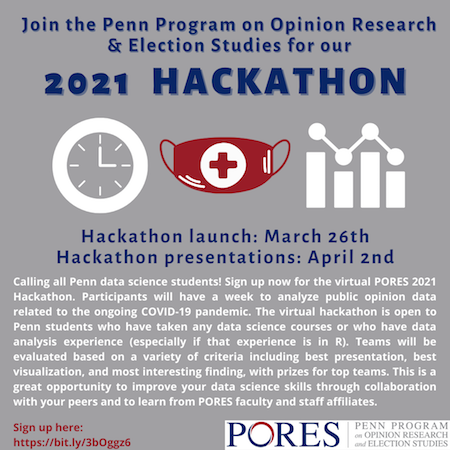 Virtual PORES 2021 Hackathon
March 26, 2021 - April 2, 2021
Final presentations: Friday, April 2nd from 2:00 - 4:00 pm EDT
The Penn Program on Opinion Research and Election Studies (PORES) is pleased to announce they will be hosting a virtual hackathon from March 26 - April 2, 2021. Participants in the event will analyze public opinion data related to the ongoing COVID-19 pandemic. The virtual hackathon is an an opportunity for Penn students to improve their data science skills by collaborating with their peers and to learn from PORES faculty and staff affiliates.
The hackathon will kick off on Friday, March 26th with a Zoom session for all participants and conclude on the afternoon of Friday, April 2nd with a virtual presentation session via Zoom. Each team of participants will have the opportunity to give a short presentation (about 5 minutes) of their findings. Teams will be evaluated based on a variety of criteria like best presentation, best visualization, and most interesting finding, with prizes for top teams.
During the hackathon week, the event will be facilitated via Slack. For students who have never used Slack before, this is an opportunity to become familiar with the platform, which is used in most workplaces today. Slack will provide a simple way for teams to communicate and share documents, as well as make it easy for PORES to send any announcements to all the hackathon participants. Slack channels will also be set up where students who have data, programming, or statistics questions can receive help from other participants, as well as the PORES faculty and staff.
The event is open to Penn students who have taken any data science courses or who have data analysis experience (especially if that experience is in R). The event will last the whole week, and the amount of time you put into it is up to you. The time you spend on the hackathon should not take away from other school and life obligations.
Hackathon teams can have between one and four people on them. Because collaboration tends to produce the best data science work, you are strongly encouraged to group together. Prior to the March 26th kickoff, you can also connect with teammates via the Slack channel.
If you plan to participate, please sign up using this form: https://forms.gle/8ZePK61cx72WNgva9. 
Anybody who signs up will receive an invitation to the hackathon Slack channel before the March 26th kickoff event. Depending on the amount of interest in the event, PORES may limit the number of teams participating. Spots will be filled on a first-come-first-serve basis. 
If you have any questions in the lead-up to the start of the hackathon, please reach out to Dr. Stephen Pettigrew (pettigr@sas.upenn.edu).