Monday, October 28, 2019 - 1:30pm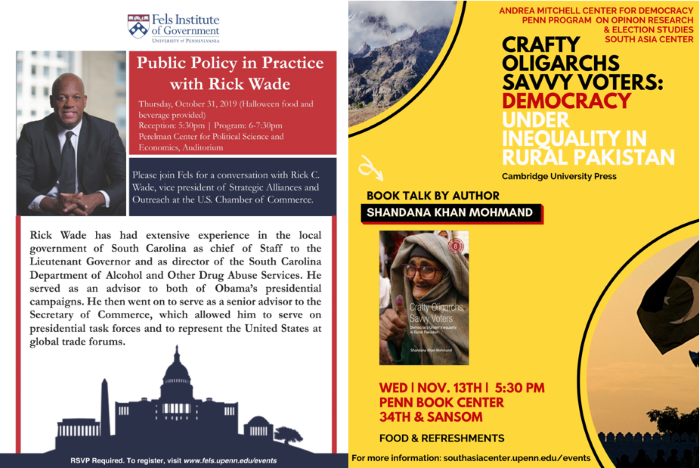 The Penn Program on Opinion Research and Election Studies (PORES) invites you to join us at these upcoming events around campus:
Public Policy in Practice with Rick Wade
Join the Fels Institute of Government for an evening of Public Policy in Practice with Rick Wade, Vice President of Strategic Alliances and Outreach at the U.S. Chamber of Commerce. Wade develops and implements programs and initiatives to help the Chamber create new business relationships and partnerships across diverse audiences. He also provides counsel on policy issues and leads special projects. Wade's wealth of knowledge and experience in both the public and private sectors enable him to give a megaphone to the voice of business across the country and share the positive impacts of the free enterprise system. Wade received his B.S. from the University of South Carolina and an M.P.A. from Harvard University. He was awarded honorary doctorates from Benedict College and South Carolina State University and has received numerous awards for exemplary leadership and public service.
All are welcome, please RSVP here: https://bit.ly/2NfyCfU 
Thursday, October 31, 2019
5:30 pm – 7:30 pm (Remarks begin at 6:00 pm)
Halloween-themed refreshments will be served
Perelman Center for Political Science and Economics, Room 200
133 South 36th Street (36th and Walnut Street), Philadelphia, PA 19104
Book Talk with Shandana Khan Mohmand
Come explore ideas about political participation, inequality, and the political economy of public policy and service delivery at a Book Talk with Shandana Khan Mohmand, author and research fellow at the Institute of Development Studies, University of Sussex, and Associate Fellow at the Institute of Development and Economic Alternatives. She will be discussing her book, Crafty Oligarchs, Savvy Voters: Democracy under Inequality in Rural Pakistan. The book focuses on the persistence of landlord dominance of rural politics despite Pakistan's transition to democracy and what this means for the political participation of its rural voting majority. This event is co-hosted by PORES, the South Asia Center, and the Andrea Mitchell Center for Democracy. 
All are welcome, no RSVP required
Wednesday, November 13, 2019
5:30 pm
Refreshments will be served
Penn Book Center
130 South 34th Street (34th & Sansom), Philadelphia, PA 19104