Monday, February 15, 2021 - 3:45pm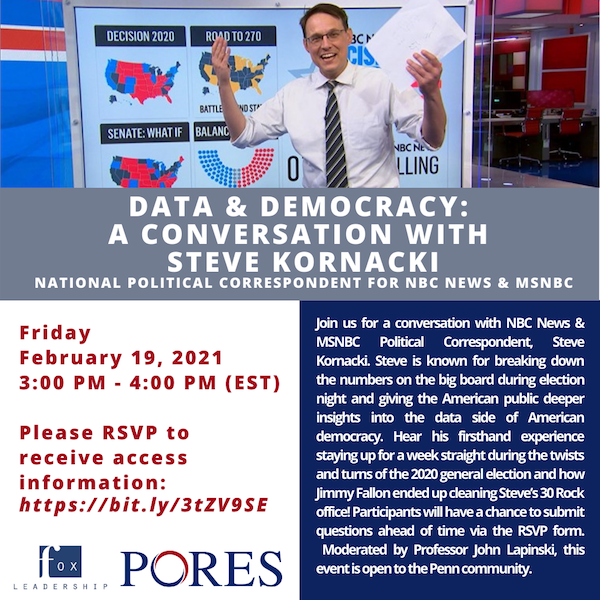 Data & Democracy: A Conversation with Steve Kornacki
Featuring:
Steve Kornacki, National Political Correspondent for NBC News & MSNBC
Moderated By:
Professor John Lapinski, Robert A. Fox Professor of Political Science, Faculty Director of the Robert A. Fox Leadership Program, and the Director of the Penn Program on Opinion Research and Election Studies
Join us for a conversation with NBC News and MSNBC Political Correspondent, Steve Kornacki on Friday, February 19th from 3-4pm EST. Steve is known for breaking down the numbers on the big board during election night and giving the American public deeper insights into the data side of American democracy. Hear his firsthand experience staying up for a week straight during the twists and turns of the 2020 general election and how Jimmy Fallon ended up cleaning Steve's 30 Rock office! Participants will have a chance to submit questions ahead of time via the RSVP form. 
Friday, February 19, 2021
3:00 PM - 4:00 PM (EST)
Please RSVP to receive access information and to submit questions: https://bit.ly/3tZV9SE